Why Remake A Costume?
If you have never seen Victoria's Tron-inspired dress before the second episode of Heroes Of Cosplay, you may be interested to know that there were other versions of the dress that came before. I have been asked, "why remake a costume?" Once you have completed a costume, what is the point in making it again? Part of the misunderstanding lies in the term "remake," because it implies making the same thing a second time. This is rarely the case with cosplay.
If you are making a blouse or dress from a pattern you bought in a sewing store, you just need to follow the directions, step-by-step. But when you are making a costume, it can be like traversing a cluttered hallway in the dark, feeling your way toward a goal, with many obstacles and unexpected turns along the way. Each costume has its own unique challenges, and by the end, I will have learned something new. (In the case of Lulu, I learned how much I hate embroidery machines.)
When I complete a costume, it is almost never 100% the way I intended. Often there are compromises and shortcuts, and there is almost always a rush at the end to meet a deadline. (Without a deadline, I'd never get anything done.) The costume may look perfect to an observer, but I will always know where I fell short. Sometimes it bothers me enough that I make the costume anew, incorporating improvements from the mistakes I made the first time.
Remaking a costume usually doesn't require starting entirely from scratch. For example, Victoria used the same wig through all the versions of the Tron Dress. There's no need to remake a perfectly good accessory. But often, an entirely new garment is be constructed, because taking apart a piece and putting it back together can be just as time-consuming as making a new one, and a newly-made piece will benefit from improved planning and techniques learned when making the previous version.
Tron Dress 1.0
Back in the distant days of 2010, hype was beginning to spread about a movie called Tron: Legacy. Before it was even released, the sequel to the groundbreaking 1982 film Tron was already accumulating an enthusiastic fanbase, thanks to its arresting visuals and technologically advanced costume design. As you might expect, cosplayers began making plans to replicate the costumes they saw in the movie trailers. Some prodigiously talented cosplayers, like Annisse (https://www.facebook.com/AnnisseDF, coincidentally also a DeLorean owner… it's a popular car in Hollywoodland!), eventually accomplished this task with stunning results!
Like many others, Victoria and I were fascinated by the movie's costume design. As we began thinking about making a Tron-inspired costume, I also began thinking of making a mash-up that would blend the sleek, futuristic aesthetic of Tron: Legacy with something fun and girly, like combining salty flavors with sweet. As it happens, I am also a fan of "cupcake dresses," those frilly, poofy, fun dresses exemplified by the work of fashion designer Betsey Johnson.
The concept was a party dress for Quorra. Initially, my nickname for it was "Betsey TRONson," but Victoria wasn't a fan of the pun. Step 1 was making a Betsey Johnson-style dress, which I did from scratch, based on a couple of photos I found on the internet. I would have loved to have saved myself the trouble of making the dress by simply buying on, but Betsey's dresses are NOT cheap.
The light patterns on the bodice were based on the design of Quorra's outfit in the movie. I set as our deadline the opening night showing of Tron:Legacy in December 2010. By now, it should surprise no one that we missed our deadline. But we did have it finished by the next night, still opening weekend. So… close enough?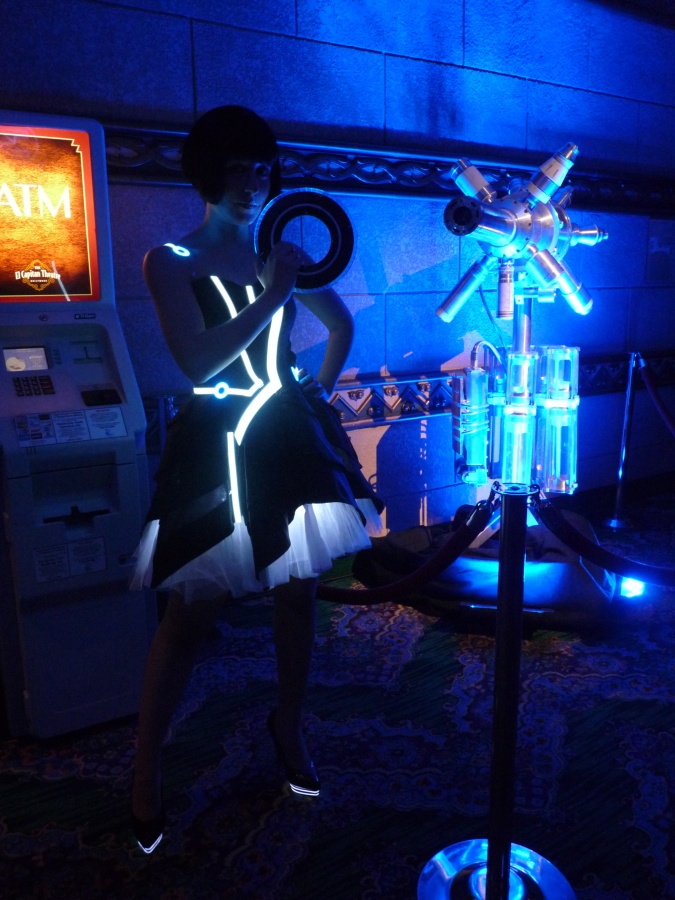 This is the Tron Dress version 1.0, at the Disney's El Capitan Theatre, opening weekend
As you can see, the basic idea is there, but with "accuracy" in mind, we kept our design in line with Quorra's outfit, with the exception of the switch from body-hugging suit to poofy dress. As a result, the skirt has no lights other than the single vertical strip on the right-front, and Victoria is carrying the toy identity disc similar to the one the characters carry in the movie.
Tron Dress 2.0
As San Diego Comic-Con International 2011 approached, we decided to work on version 2.0. Once the movie was released, there was more access to details about the costumes in the film, and we wanted to incorporate then into the dress. And of course, there were other improvements we wanted to make.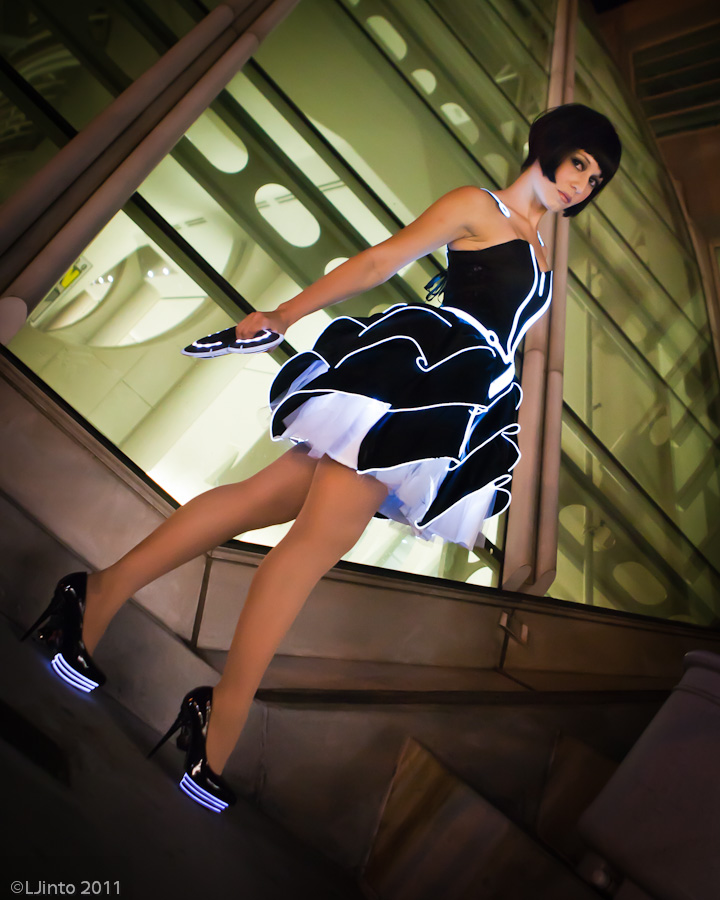 This is version 2.0 of the Tron Dress, at San Diego Comic-Con International. Photo by Ljinto.
If you have seen photos of Victoria in the Tron Dress on the internet, then this is the one you have seen. After all, there are WAY more people with cameras at Comic-Con than there are at a movie theatre. Some have labeled it a "Tron Prom Dress," which kind of works since Comic-Con is often referred to as Nerd Prom. This version has a petaled skirt with hand-sewn electroluminescent wire. The shoes also have a new wiring/power system which is more streamlined.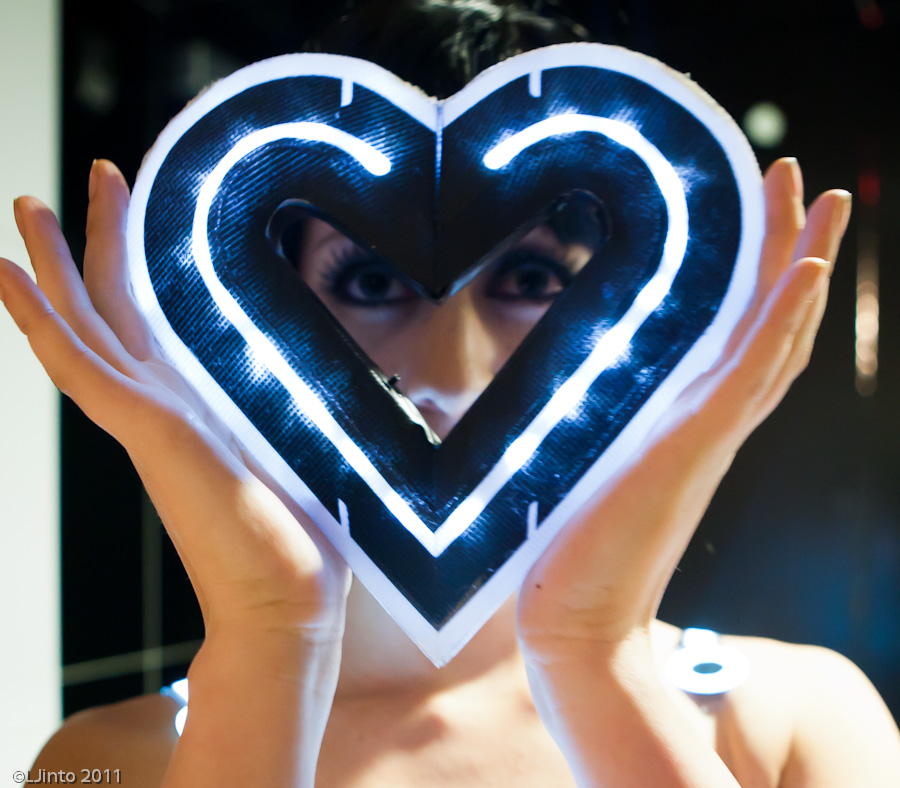 This version also introduces the heart-shaped "identity disc," which is made of a thermoplastic called Wonderflex. Photo by Ljinto.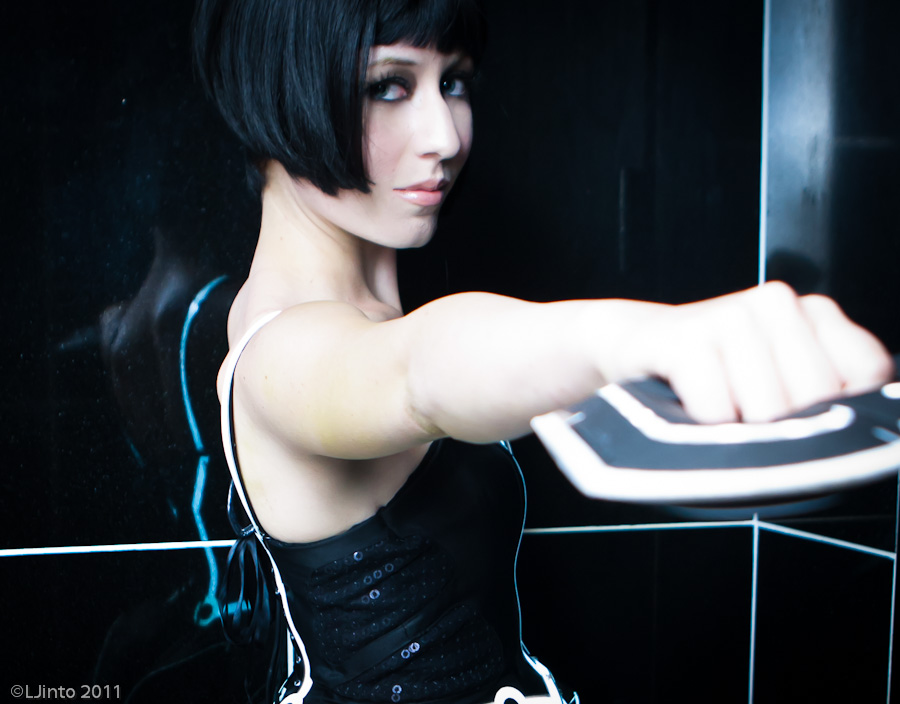 Also, there are cutouts on the sides, with inset panels of ring-shaped sequins which are meant to evoke the raised hexagon texture of Quorra's undersuit fabric in the movie. Photo by Ljinto.
Tron Dress 3.0
When we were approched about doing "Heroes Of Cosplay," the producers expressed an interest in putting the Tron Dress in the show. At first, we balked at the suggestion of using an old outfit. But the truth is, there were things about the Tron Dress that we had never been fully satisfied with. This gave us a reason to actually get them done. One of the changes we'd had in mind was an overhaul to the dress' power system. The increase in power required in version 2.0 resulted in shorter battery life and a slight decrease in brightness that we wanted to address.
This issue was even more pronounced with the shoes, which drained their batteries in less than an hour. And the heart/disc was also due for an upgrade. I switched the shoes from EL wire to LEDs. While I liked the look of the EL wire, I preferred the brightness and longevity of the LEDs, and the wider channel of light seemed more fitting with the movie design of Quorra, which had wide light elements rather than thin wires of light.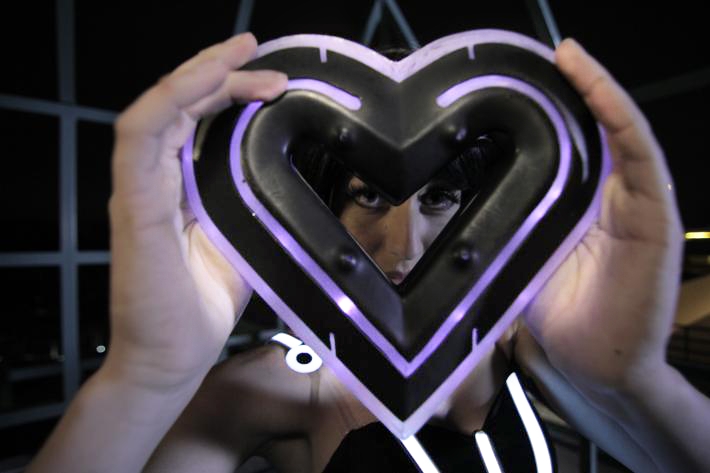 We made a new heart/disc by creating a solid plastic buck and having it vacuformed by Victoria's friend, Darren Wright. I then cut, painted, layered, and lit the vacuformed plastic. The skirt of the dress incorporates panels of fabric of a contrasting texture. I don't know if that will be visible on TV, but it was something I thought would add dimension to the dress.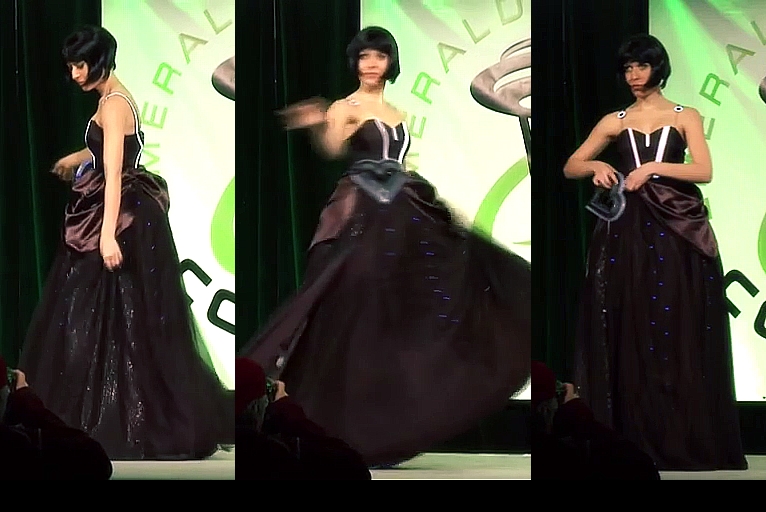 The biggest change, of course, is the removable gown portion. That was partly inspired by Disney's acquisition of Lucasfilm. After the announcement of this deal, a lot of jokes began circulating about Leia becoming a Disney Princess. That got me to thinking, if they were going to start adding live-action heroines to their Disney Princess roster, Quorra would make a fine addition. I worked up some concept drawings of a Quorra dress influenced by the Disney Princess aesthetic, and came up with the design we made in episode 2 of "Heroes Of Cosplay."
Tron Dress 4.0?
Having remade and upgraded our Tron-inspired so many times, I am inevitably asked whether I will be remaking it. My answer is, I don't know. The odds are against it, since there are so many other costumes and outfits I would like to make, and this version definitely makes me more happy than the original. But there are definitely improvements I could make. Regardless of whether I remake the outfit, I will probably remake the heart/disc to be more polished and finished.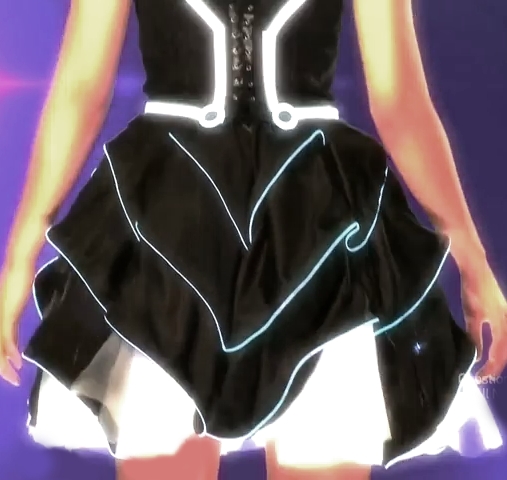 The corset-style lace-up back, and poofy skirt petals
It has been interesting to see the outfit evolve. The dress still retains the general lines of the Betsey Johnson dress that inspired it, and from a distance, could probably be mistaken for one, but many subtle changes have crept in.
- Shoulder straps, to emulate Quorra's shoulder stripes.
- I patterned the overlapping skirt petals to arc rather than cut diagonally the way they do on the Betsey dress, and separate more, to give the skirt a poofier look.
- Corset-style laced back instead of a zipper.
- Inset sequined panels.
- Much of the seam work has been changed. For example, the Betsey dress used boning in the bodice, but I didn't want mine to need boing.
- The skirt petals use alternating fabrics, some a flat black, some with a "carbon-fiber-like" texture.
- The white fluff that peeks out the bottom of the skirt is shorter.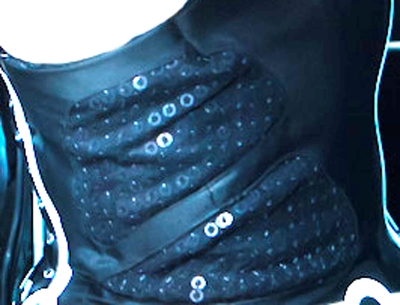 Cosplay is a hobby, something I do for fun. If, someday, I am struck by an idea of how I'd like to change this outfit, then I probably will. Until then, I'll just enjoy it as it is!